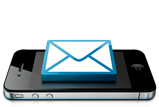 Home
>> MAC Bulk SMS Software for USB Modems
MAC Bulk SMS Software for USB Modems
Price: $49
Mac Bulk SMS software for USB modems allow users to send bulk number of text messages to any global mobile networks using USB modem connected with Mac. Mac Mobile messaging program provides inbuilt list wizard option to maintain the list of contacts or groups during the message sending process. Software provides facility to save sent text message details into text or html file formats for future references.
Software Features
Inbuilt delayed delivery option to control the load of bulk SMS broadcasting.
Software supports all Unicode characters for sending SMS in different languages.
Provide facility to Export contact and message list in Excel file format.
Facility to skip duplicate number entries during the messages sending procedure.
Save sent SMS in txt or html file format that can be viewed later.
Works with all different types of USB modem for sending group text messages.
Why to choose?
Provides complete solution to communicate with different people.
Useful for promoting your products by broadcasting multiple number of text messages.
Helps to send text messages related to job alerts, product promotion, inauguration, invitations, promotional campaigns and other information.