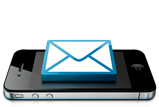 Home
>> Frequently asked questions (FAQ)

Frequently asked questions (FAQ)
Q: How many messages can I send at a time using bulk sms software?
A: You can send thousands of text messages to individuals or list of contact numbers in just a single click.
Q: What is the difference between Bulk SMS Software for GSM Mobile Phones and Bulk SMS Software for Windows based Mobile Phones and Pocket PC to Mobile Bulk SMS Software?
A: Bulk SMS Software for GSM Mobile Phones enables you to send mass sms to the list of selective phonebook or individuals via GSM based mobile phone.
Bulk SMS Software for Windows based mobile phone allows you to send bulk sms from computer to mobile phone device using Windows based cell phones.
Pocket PC to Mobile Bulk SMS Software enables you to send group sms from Pocket PC/PDA to all national and international mobile networks.
Q: Does software require any specific external device to send bulk messages?
A: Windows based Mobile Phone Messaging Software requires windows based PC/PDA device for sending bulk sms from PC to mobile phone, bulk sms software for GSM mobile phone requires any GSM based mobile phone while Pocket PC Mobile Messaging Software does not require any special external device for sending bulk text messages.
Q: How can I buy full software version?
A: You can visit our website https://www.bulksmsgroup.com and easily purchase Bulk sms software. We also offer the affordable software bundle which includes Professional bulk sms software and Pocket PC to Mobile SMS Software in one pack.
Q: How can I send bulk sms using Bulk SMS Software?
A: You can send number of text messages either using Professional Bulk messaging software (including Windows based Mobile Phone and GSM based Mobile Phone) or Pocket PC to Mobile Messaging Software.
Q: Which brands of Windows based mobile phone does bulk SMS software support?
A: Advance Bulk SMS Software supports all major popular brands of Windows based mobile phone or smart phone devices including ASUS, Audiovox, Anextek, HP iPAQ, Sony Ericsson, Nokia, Motorola, E-ten M600 Pocket PC, HTC Touch, O2 XDA, Gigabyte Gsmart, Samsung Blackjack, i-mate, Toshiba Portege, Orange SPV C600 smartphone and many more.
Q: How Mobile Messaging Software is useful in mobile marketing or corporate world?
A: By using Mobile Messaging Software, you can send mass text messages to individual or group of people at a time supporting both national and international mobile network so that you can stay in touch with your family members, friends, colleagues, clients and others. Software is useful for corporate world or mobile marketing to broadcast bulk sms that helps to increases business productivity by contacting the customers in least time.
Q: Will the message "It is the demo limitation message and full version will not show such message anywhere.", which appears in my unregistered version, be removed once I order?
A: The message text will be removed once you place order for the licensed version of the DRPU Bulk SMS Software.