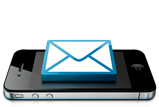 Home
>> Bulk SMS Software (Multi-Device Edition)
Bulk SMS Software (Multi-Device Edition)
Price: $49
Bulk SMS Software (Multi-Device Edition) is designed to broadcast thousands of text messages from PC using GSM technology based cell phones. Connect multiple mobile phones with computer to send personalized SMS, important alerts, reminders, product launching details, etc via using Bulk SMS tool. Using SMS Sender program, you can deliver bulk SMS in different languages over worldwide location. Software is fully compatible to work with all major brands of GSM mobile phone including Nokia, Samsung, Motorola, Sony Ericsson, BlackBerry, LG and other GSM mobile phone brands.
Software Features
Connect multiple GSM technology based mobiles with computer and send bulk text SMS.
Provides delay delivery option to control and customize the load of bulk SMS broadcasting.
Facility to save sent text message details.
Software forward messages that contain non-English (Unicode) characters.
Maintain the list of contact numbers or groups using exclusion list wizard option.
Provides option to skip duplicate phone number entries.