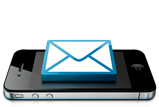 Home
>> Bulk SMS Software

Professional Bulk SMS Software send bulk text SMS from PC to multiple mobile phones via USB Modems, GSM, Android or Windows technology based devices.

Mobile Marketing Software send bulk messages to other mobile contacts from PC via using GSM technology based cell phones. Software deliver messages that contains non-English characters.

Bulk SMS Software for BlackBerry Mobile Phones compose and send group SMS from PC to mobile phone recipients using BlackBerry cell phones without using internet connection.

Android Bulk SMS program broadcast multiple SMS to individuals or list of phone numbers using Android technology based mobile phones. Software provides facility to load Contact from file saved in excel or txt file format.

Send important alerts, reminders, share market updates, product launching details, invitations etc to global mobile networks using GSM mobiles connected with PC.

Connect multiple USB modem with computer and send thousands of text SMS simultaneously with Bulk Messaging Software for USB modem. Group SMS program provides inbuilt list wizard option to maintain the list of contact numbers.

Broadcast thousands of text SMS from PC to single or list of contact numbers via using Windows based pocket PC or smartphone mobile devices. SMS Sender program provides option to skip duplicate number entries.

Mobile Messaging tool deliver bulk SMS from Pocket PC/PDA device to other mobile phone users at all national or international mobile network.

Bulk SMS Professional Bundle that includes Bulk SMS Software – Professional and Pocket PC to Mobile Bulk SMS Software in single pack. Easily buy Bulk SMS Professional Bundle to send SMS over global mobile networks.