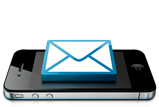 Bulk SMS Professional Bundle
Affordable Bulk SMS Professional Bundle includes:
PC to Mobile Messaging Software: Software facilitate to send bulk sms from PC to mobile phone by using Windows based cell phone devices across the world without requiring internet connection.

Pocket PC to Mobile Messaging Software: Software empowers users to send instant text messages from Pocket PC/PDA device to multiple mobile contacts over national and international mobile networks.
Bulk SMS Professional bundle makes sure to satisfy the customer after purchasing PC and Pocket PC mobile messaging software available in a single pack. Buy Bulk SMS Professional Bundle to communicate with your friends, customers, clients, relatives and other people by sending bulk text messages.